CLUB MED KABIRA ISHIGAKI ISHIGAKI 1 BANCHI,KABIRA-ISHIGAKI CITY 907-0453 OKINAWA
Phone: (81) 980 844 600 | Fax: (81) 980 882 880
The Resort
Imagine a spring embraced with cherry blossom…The Kabira peninsula is located on the north-west part of the Island of Ishigaki, 12 miles from the town. This Club Med resort stands opposite a white sandy beach where the sea is extremely clear and beautiful.
Due to the high quality of the underwater world, and the wealth of fauna and flora, the bay of Kabira is Japan's most beautiful underwater diving spot.
This part of the island is also renowned for its constantly blowing wind (in Winter), which will delight thrill-seeking windsurf enthusiasts.
Kabira is also an excellent starting point from which to set out and explore – and appreciate – the purest of Japan's traditions.
For all the family to discover, thanks to its Petit Club Med*, this resort is an excellent way to fall for the charms of Asia.
Accommodations
This Resort, located in an amazing location oriented towards the Pacific ocean, is composed of 4 floored bungalows built in a semi circle, facing the ocean.
This resort has 181 rooms and suites.
Deluxe
A spacious Deluxe room with a "sea" view or garden view, offering a generous level of comfort with its furnished terrace for your relaxation.
Club
A connecting Superior room or not, comfortable and elegant.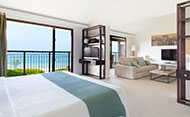 Suite
A spacious and elegant suite wiith a fully-equipped balcony where you will be able to savour a top of the range comfort